The US Supreme Court is considering whether a civil rights law that bars workplace discrimination applies to gay and transgender workers.
It is hearing two cases of alleged discrimination against gay employees, and a third involving transgender discrimination.
Protesters from both sides gathered outside the court as arguments began.
The cases may be a landmark for LGBT rights in the US, four years after gay marriage became legal nationwide.
Decisions from the nine justices on America's highest court are due by next June.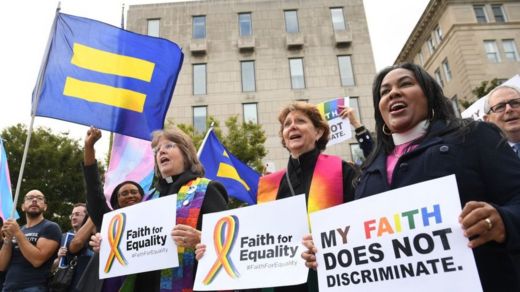 What are the cases?
The first two cases have been consolidated as both address the purported discrimination of gay employees.
Donald Zarda, a skydiving instructor from New York, and Gerald Bostock, a former county child welfare services co-ordinator from Georgia, both say they were fired because of their sexual orientation.
And Michigan funeral home employee Aimee Stephens who claims she was fired because she is transgender.
The US Department of Justice under President Donald Trump has supported the employers in each case, arguing that existing federal civil rights protections do not extend to sexual orientation or gender identity.
What's the legal background?
Title VII of the Civil Rights Act of 1964 forbids employers from discriminating against employees on the basis of sex as well as gender, race, colour, national origin and religion.
The legal arguments hinge on whether "sex" may apply to sexual orientation and gender identity.
So far, most federal appeals courts in the US have interpreted the law to exclude discrimination against lesbian, gay, bisexual and transgender people.
But two courts, in New York and Chicago, recently ruled that discrimination against LGBT people is a form of sex discrimination.
What happened in court?
The Supreme Court justices appeared divided on Tuesday on whether Title VII protects gay, lesbian and transgender employees.
Conservative Justice Samuel Alito said in court that if the provision is found to cover LGBT individuals, the court would be seen as deciding "a major policy question" – taking the place of the legislature.
Chief Justice John Roberts is seen as a possible swing vote on the issue.
He asked on Tuesday whether, if the court were to rule that sexual orientation is covered by Title VII, should exemptions be granted for employers with sincerely held religious beliefs.
It is the first time the top US court has heard a case involving gay rights since 2018.
Since then the balance of the court has tilted to a 5-4 conservative majority, including Trump appointees Justice Neil Gorsuch and Justice Brett Kavanaugh.

'It happened to me'
AJ Celento says he was fired because of his sexuality from a restaurant in Nashville, Tennessee, which the family-owned chain denies.
In 2017, Mr Celento was hired as a manager at Demos'. Once hired, Mr Celento says he was asked repeatedly about his personal life, before eventually disclosing he was married to a man.
Mr Celento said he was asked to sign a disciplinary statement saying he had been "dishonest" about his marriage during the hiring process. Following a 90-day probationary period, Mr Celento says he was fired.
"It was based on [my sexuality] 100%," Mr Celento said. "Unfortunately for me, I was not on guard because I didn't think it mattered."
Without a job, Mr Celento says, he and his husband, Josh, lost their health insurance and their home.
But Peter Demos, president of Demos', told our source that Mr Celento was fired for arriving late and speaking abusively to other employees.
According to Mr Demos, Mr Celentos did not even disclose his sexuality until he was disciplined for poor timekeeping.
He said at the time Mr Celento was sacked, a third of the chain's managers were members of the LGBT community.
Tennessee is one of more than half of US states without an explicit law protecting LGBT people from discrimination in housing, employment or public accommodations.
More About us