Star Wars star Harrison Ford has paid an emotional tribute to Chewbacca actor Peter Mayhew, who has died aged 74, saying: "I loved him."
Ford, who played Han Solo, praised the "kind and gentle man" for his "great dignity and noble character".
Mayhew died at his home in Texas on 30 April with his family by his side, a statement said.
The British-US actor played the giant Wookiee warrior in several Star Wars films from 1977 until 2015.
"He put his heart and soul into the role of Chewbacca and it showed in every frame," his family said.

London-born Mayhew played Chewbacca in the original Star Wars trilogy, episode three of the prequels, and shared the role in 2015's The Force Awakens.
Ford and Mayhew's characters were close friends and piloted the Millennium Falcon. "We were partners in film and friends in life for over 30 years and I loved him," said Ford.
"He invested his soul in the character and brought great pleasure to the Star Wars audience."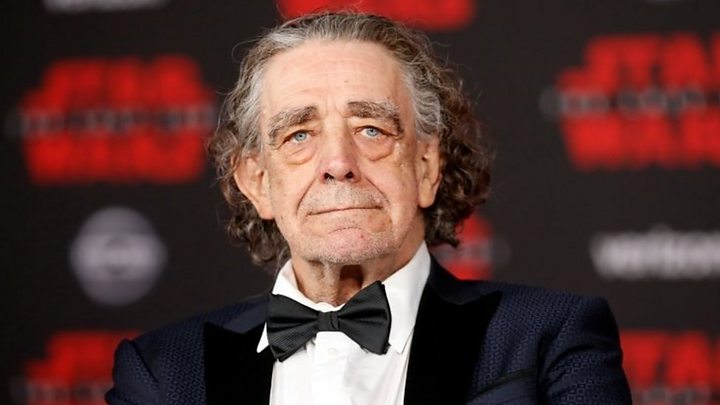 Mark Hamill, who played Luke Skywalker, described Mayhew as "the gentlest of giants".
Hamill said: "What was so remarkable about him was his spirit and his kindness and his gentleness was so close to what a Wookiee is.
"He just radiated happiness and warmth. He was always up for a laugh and we just hit it off immediately and stayed friends for over 40 years."

Star Wars creator George Lucas had wanted a tall actor to play Chewbacca and initially considered 6ft 6in (1.98m) David Prowse for the role.
However, Prowse wanted to play Darth Vader, so Lucas then turned to Mayhew, who at 7ft 2in (2.18m) was chosen purely for his height. His face was never seen.
"He fought his way back from being wheelchair-bound to stand tall and portray Chewbacca once more in Star Wars: The Force Awakens," his family said.
Mayhew also consulted on The Last Jedi, released in 2017, in an attempt to pass on the secrets of the role to his successor, Finland's Joonas Suotamo.
Mayhew's family said "the Star Wars family meant so much more to him than a role in a film".
Lucas said: "Peter was a wonderful man. He was the closest any human being could be to a Wookiee: big heart, gentle nature – and I learned to always let him win. He was a good friend, and I'm saddened by his passing."
Lucasfilm president Kathleen Kennedy added: "Peter's iconic portrayal of the loyal, lovable Chewbacca has been absolutely integral to the character's success, and to the Star Wars saga itself.
"When I first met Peter during The Force Awakens, I was immediately impressed by his kind and gentle nature.
"Peter was brilliantly able to express his personality through his skilful use of gesture, posture, and eyes. We all love Chewie, and have Peter to thank for that enduring memory."

Suotamo played Chewbacca's body double in Force Awakens and went on to play the Wookiee in 2017's The Last Jedi and 2018's A Star Wars Story.
He added to the warm tributes, saying Mayhew was "an absolutely one-of-a-kind gentleman and a legend of unrivalled class".
Robert Iger, head of The Walt Disney Company, tweeted that the "beloved" star was "a gentle giant playing a gentle giant".
The Force Awakens director JJ Abrams and The Last Jedi director Rian Johnson added their voices.
In a handwritten note posted on Twitter, Abrams said: "Peter was the loveliest man… kind and patient, supportive and encouraging. A sweetheart to work with and already deeply missed."

Canadian Prime Minister Justin Trudeau shared a photograph of himself with the star.

San Diego Comic-Con said he was their "beloved companion".
The family's statement also said the actor had been "heavily involved" with non-profit organisations and had launched his own foundation, which they said supported "everything from individuals and families in crisis situations to food and supplies for children of Venezuela".
They did not reveal the cause of death. A memorial service for friends and family will be held on 29 June, while a separate memorial for fans will take place in December, the statement said.
The actor is survived by his wife Angie and three children.